Its Halloween time again and friend-of-the-show Kristi is back to talk about the Haunted Mansion, and beyond. Come and take a listen to the darker side of the park, and hear some fun ghost-oriented stories. (with apologies, the podcast this week is a little long at 41 minutes, but I think you will find its well worth your time!)
These are the scenes from the Haunted Mansion that we discuss: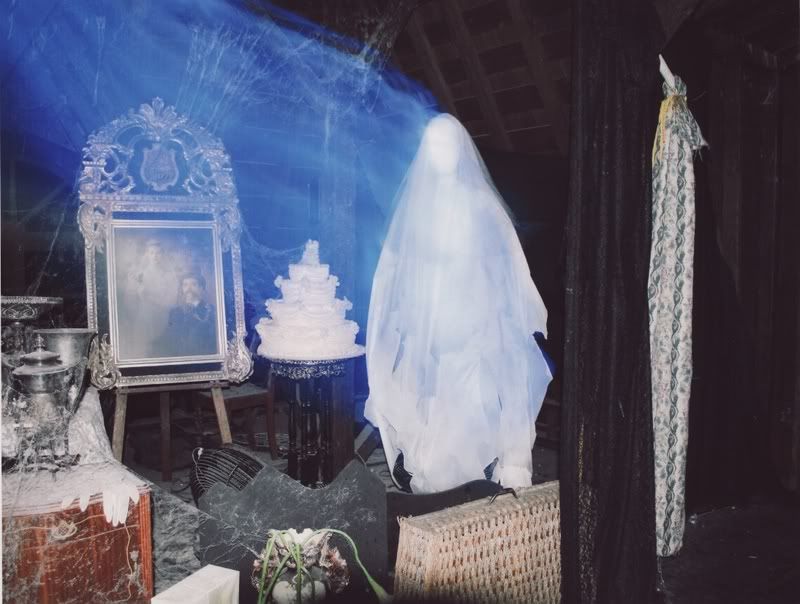 ---
Below is "The HatBox Ghost" video. Its the only known video of the element in DisneyLand in 1969:
---
Kristi references a video of the haunted mansion with some alterations. You can see "The Haunted Mansion: Hatbox Ghost Edition" at
Vimeo.com/26227940
---
Great Expectations
is available at
The Gutenberg Project
, for free.
---
Here are the Top 5 creepy things, in the Magic Kingdom, but not in the Haunted Mansion:
#5 Platypuses with Eggs (Its a Small World)
#4 Tiki Totems (Enchanted Tiki Room)
#3 Pirate on the Ship (Pirates of the Caribbean)
#2 Injun Joe's Cave (Tom Sawyer's Island)
#1 Tiger's glowing eyes in Shirley Temple's (Jungle Cruise)
---
Bad Apple
, was just released by Vagabondage Press Books and is available everywhere in print and all e-book formats. You can find it here:
http://bit.ly/BadAppleKPS
. (Remember 50% of the proceeds are being donated to charity)
Her newest scary story, "The Thing Inside," is in an anthology called Unnatural Tales of the Jackalope, available from Western Legends Press in both Paperback and Kindle on Amazon.
If you want to see the book trailers for either of these, they're on Kristi's website here:
http://kristipetersenschoonover.com/trailers/
A ghost story writer who still sleeps with the lights on, Kristi Petersen Schoonover's fiction has appeared in countless magazines and anthologies. She holds an MFA from Goddard College, has received three Norman Mailer Writers Colony Residencies, is editor for Read Short Fiction, and hosts the Scary Scribes podcast for Paranormal, Eh? Radio Network in Canada. Her work
Skeletons in the Swimmin' Hole
is a collection of ghost stories set in Disney Parks; her horror novel,
Bad Apple
, is now available from Vagabondage Press Books. She's also a member of the New England Horror Writers Association. More info:
www.kristipetersenschoonover.com
.